| | |
| --- | --- |
| Multiple Intelligences Resources | |
Books by Howard Gardner, author of The Theory of Multiple Intelligences (MI)
Howard Gardner, a MacArthur Prize Fellow, is Professor of Education and Co-Director of Project Zero at the Harvard Graduate School of Education, and Adjunct Professor of Neurology at the Boston University School of Medicine. He lives in Cambridge, MA.

Theatre in Motion, a participatory educational theatre company listed as a Multiple Intelligence resource by Dr. Gardner, is happy to assemble the MI information below:
in alphabetical order
Artful Scribbles

Art, Mind, and Brain

Arts and Human Development

Creating Minds

Extraordinary Minds

Frames of Mind

Intelligence Reframed

Leading Minds

The Mind's New Science

Multiple Intelligences...,
the Theory In Practice

To Open Minds

The Disciplined Mind

The Unschooled Mind

For more information on these books, including purchase, contact:
www.harpercollins.com
1-800-331-3761

ALSO

Books that changed the way many of us think about intelligence and education.
---
On Assessment
According to Arts PROPEL (a project which brought together researchers from Harvard Project Zero and Educational Testing Service with teachers and artists), new forms of assessment are needed for teaching with the Multiple Intelligences. Therefore, Arts PROPEL classrooms initiated some prototype forms of assessment: Curriculum was presented as a domain project on a given topic--such as creative writing. Integrated, cumulative activities involved students with opportunities to explore new concepts, make decisions, make mistakes, build on previous activities, and meet greater challenges. Domain projects involved three areas of paramount importance for students: perception, production, and reflection. A climate for learning was established.
Assessment evolved out of ongoing teacher observation and student self-evaluation...at a number of times throughout the project. Assessment was ongoing and resulted in a processfolio, not simply an end product of the student's work. This Arts PROPEL prototype for authentic assessment can lead the way for alternatives in evaluating students' knowledge and learning processes.

According to Dr. Gardner, Americans have utilized standardized testing to an overzealous degree. In spite of the universality of this testing mania, there is every reason to question its legitimacy. High scores on standardized tests measure how well a student can take the test--not actual working knowledge. Consider the following students who did poorly in school--Albert Einstein, Thomas Edison, Isaac Newton, Winston Churchill. They are genius examples, but not exceptions. According to research at the Harvard Graduate School of Education, a high GPA, SAT score, or IQ are not accurate indicators or barometers of success later in life. Once the social trophy of an "A+" is irrelevant, most "high numbered" students turn out to be quite ordinary achievers as adults...the same as their 2.5 counterparts. What, then, was the importance of these numbers? There are always bright, new minds out there, but standardized tests are not assessing who they are and who will be successful.
In other cultures and in ancient cultures, highly intelligent people are/were not labeled with such finite numbers. They manage(d) to invent things, discover things and change the world. The MI definition of an intelligence is the ability to solve a problem or to create a product that is useful in one or more cultures, and often includes the potential for finding or creating problems so that the groundwork is set for acquiring new knowledge. This is certainly a new way of looking at human intelligence, and we must find new forms of assessment.
The quest for authentic modes of assessment is ongoing. It is decidedly different from the singular act of testing. Theatre in Motion invites email from you regarding your experiences with assessment. As educators/learners we are all in this together.


Email us to discuss assessment or for booking information or for upcoming performances.


---
Multiple Intelligence Resources on the Net
---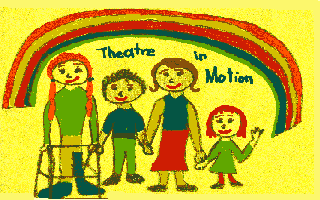 Our site is Bobby Approved